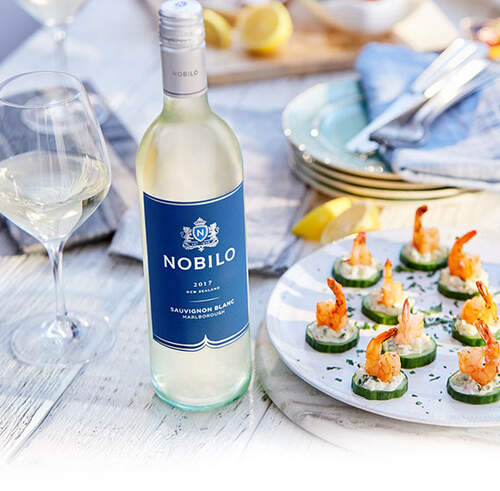 CREOLE SHRIMP AND CUCUMBER APPETIZER


PAIRS WELL WITH NOBILO SAUVIGNON BLANC


PREP AND COOK TIME:
45 minutes


SERVES:
24


DESCRIPTION
Enjoy this delicious appetizer, featuring Creole-styled shrimp on cucumber, with Nobilo Sauvignon Blanc.
INGREDIENTS
1 cup mayonnaise
¼ cup chopped dill pickles
3 Tbsp chopped capers
3 Tbsp chopped red onion
1 tsp lemon zest
1 Tbsp lemon juice
3 Tbsp chopped parsley, plus to garnish
Hot sauce to taste
1 lb medium shrimp, peeled deveined
1 ½ tbsp creole seasoning
2 Tbsp canola oil
1 large cucumber, cut into approx 24 rounds
Salt and pepper to taste
METHOD
Mix mayonnaise and all ingredients up to and including hot sauce.
Dry shrimp well and mix with creole seasoning and oil.
In a large frying pan on high heat cook shrimp in batches until opaque.
Divide mayonnaise sauce between cucumber rounds.
Top each with a cooked shrimp.
Garnish with parsley and serve.