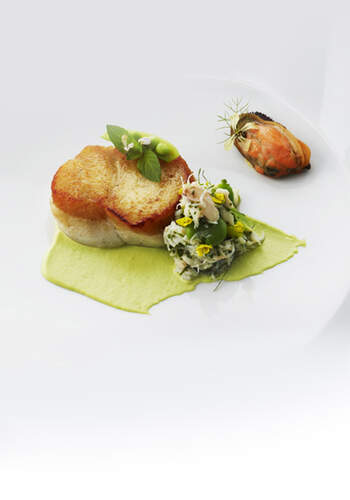 CHATHAM COD, CRAB, FAVAS & PICKLED MUSSELS
Developed by New Zealand-born Chef Matt Lambert.
PREP AND COOK TIME:
60 Minutes | Serves 4
DESCRIPTION
In this dish we bring together the flavors of summer with Cod and Mussels. The whole preparation for this dish can be made ahead of time. It's made à la minute except for the Fava purée.
COD
4 150g portions of a very large cod, filleted by local fishmonger
4 Tbsp butter
1 lemon, peeled with no pith
PICKLED MUSSELS
900g steamed mussels
3 ¼ cups cider vinegar
1 cup sugar
2 cups Nobilo Icon Sauvignon Blanc
10 peppercorns
2 Tbsp salt
4 stems tarragon
6 bay leaves
CRAB AND FAVA SAUCE
4 Tbsp crab meat
7 ¾ cups blanched fava beans
3 Tbsp liquid from the pickled mussels
2 Tbsp Nobilo Icon Sauvignon Blanc
1 Tbsp chopped chives
1 Tbsp chopped cilantro
1 mussel
1 Tbsp salted butter
FAVA PURÉE
2 cups blanched warm favas
1 cup hot heavy cream
¼ tsp xanthan (optional)
1 tsp salt
1 tbsp unsalted butter
GARNISH
Black mint
Dill
Bronze fennel
Fava flowers
PICKLED MUSSELS
Heat ingredients until sugar and salt are dissolved.
Let cool to around 180°F/80°C. You may adjust the sugar to your personal taste. I prefer it to be very acidic.
Add mussels and store for at least 5 days.
CRAB AND FAVA SAUCE
Chef's Tip: Adding herbs as you are serving maintains the bright flavours and colours. Aside from balance in dishes through acidity, I like to use herbs in the same light, particularly these two.
Gently warm ingredients in a saucepan, adding butter last and mix in to incorporate without breaking the liquid and butter.
When you remove from the heat, add the herbs as you are serving and mix through.
FAVA PURÉE
Place all ingredients into a blender, except for the cream.
Add cream slowly and purée on a very high speed to ensure the purée is as smooth and silky as possible. If you don't have xanthan it is totally fine.
PLATING AND THE GARNISH
Smear the fava purée at the base of the plate.
Place the fish on top of that and carefully place the stack of crab/favas next to the fish.
The mussel can go anywhere you like. I put it somewhere different every time I plate this dish.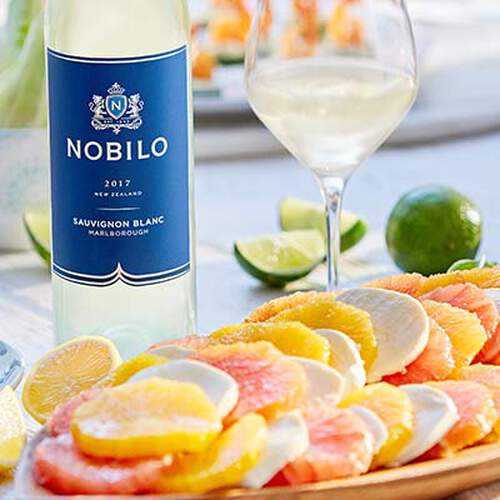 CITRUS CAPRESE SALAD WITH HONEY VINAIGRETTE