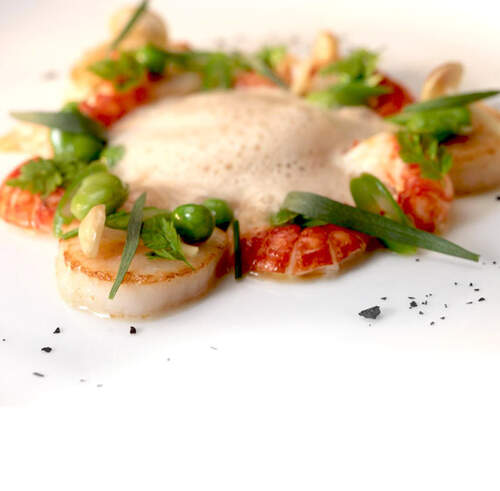 CRAYFISH AND SEARED SCALLOPS
Freshwater crayfish and scallops are both sweet when cooked. In addition, the cold bean and fresh herbs provide a savoury counterbalance with the Nobilo Icon Marlborough Sauvignon Blanc. The wine shows a hint of sweetness and depth of flavor which is bought out by the perfumed crayfish crème.
DESCRIPTION
Nobilo Icon Marlborough Sauvignon Blanc crayfish & seared scallops, green bean, needle mushroom & fresh herb salad, crayfish crème.
CRAYFISH AND SEARED SCALLOPS
12 whole baby crayfish
18 scallops
2 Tbsp clarified butter
Sea salt
2 Tbsp cooked & diagonally sliced green beans
2 Tbsp peeled broad beans
2 Tbsp baby sweet peas
12 pieces trimmed needle mushrooms
2 tsp each of picked chervil, tarragon, and chive batons
1 tsp black Hawaiian salt flakes
240ml crayfish crème
CRAYFISH CRÈME
⅓ cup each of diced carrot, onion & celery
2 cloves of garlic
1 Tbsp olive oil
12 crayfish heads, roasted in the oven then crushed
60ml brandy
100ml cup dry white wine
1 L fish stock
fresh herb stalks - chervil, parsley, dill, chive, 1/2 a fresh bayleaf
4 white peppercorns
Salt
300ml cream
PREPARING THE CRAYFISH AND SEARED SCALLOPS
Boil whole crayfish in salted water for 2 minutes.
Refresh in iced water, drain & peel the tails, carefully cut down the back of the tail to remove the intestinal tract.
Season the scallops, then fry in a hot pan with the clarified butter until golden.
PREPARING THE KOURA CRÈME
Gently fry the vegetables and garlic in olive oil for 10 minutes until soft.
Add crushed crayfish heads & further fry for 10 minutes on a low heat.
Add brandy and flambè, then add wine, reduce until almost dry then cover with fish stock.
Add herbs, spices & salt, bring to the boil then skim & simmer for 45 minutes.
Strain & reduce to 1/6th its original volume.
Meanwhile reduce cream by half, add to the crayfish reduction, bring to boil then strain.
TO SERVE
Arrange the scallops and crayfish tails in bowls with the green beans scattered on top, place the mushrooms on, then sprinkle with herbs and black salt.
Spoon the hot whisked crayfish crème into the centre of each bowl.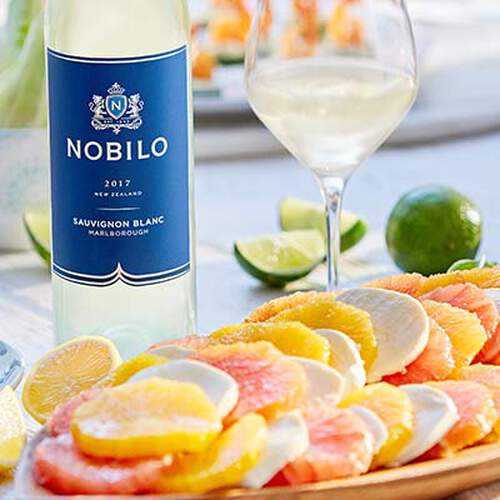 CITRUS CAPRESE SALAD WITH HONEY VINAIGRETTE