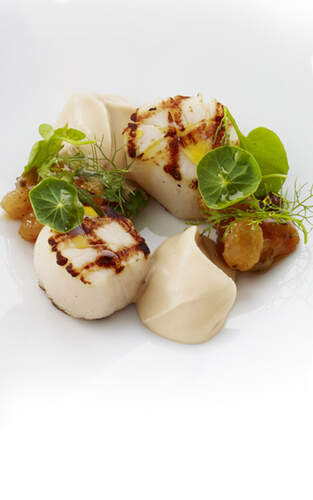 GRILLED SCALLOPS, GOLDEN RAISIN RELISH, & CAULIFLOWER
Developed by New Zealand-born Chef Matt Lambert.
PREP AND COOK TIME:
60 Minutes | Serves 4
DESCRIPTION
This dish has a few layers of flavours which embody summer. Grilled scallops have that char/smoky taste that you MUST HAVE during summer - meaning get outside and grill! If you want to avoid mosquitos, they can also be pan roasted. There is Nobilo Icon Marlborough Sauvignon Blanc used in the golden raisin relish, and it pairs perfectly with the sweet and acidic notes of the relish when enjoyed by the glass. The relish has depth, heat, and sweetness. It's an excellent condiment to keep in your fridge. If stored correctly, it can last for months and goes great with many other proteins, including pork. The cauliflower brings in that earthy tone. Preparation is simple and the plating is elegant but homely.
SCALLOPS
10-20 Dry sea scallops
CAULIFLOWER PUREE
2 finely chopped cauliflowers
1 large white onion, thinly sliced
4 cloves thinly sliced garlic
1 stick of butter
½ cup cream
½ tbsp tahini
Lime juice to taste
Salt to taste
GARNISH
Fennel fronds
Dill
Celery leaves
Watercress
Roasted pistachios
Olive oil
GOLDEN RAISIN RELISH
Zest of 3 lemons
2 Tbsp finely diced jalapeños
4 Tbsp very finely diced ginger
4 Tbsp very finely diced lemongrass
4 Tbsp very finely diced (powdered) rosemary
½ cup finely diced shallots
3 ½ cups finely diced red chili
4 cups golden raisins
1 cup cider vinegar
1 cup Chardonnay vinegar
½ cup sugar
1 cup Nobilo Icon Sauvignon Blanc
TOOLS NEEDED
Pint containers
Blender
SCALLOPS
Chef's Tip: The scallops should come cleaned from the fish market, but they may still have a small muscle that is of a whiter color attached - it's very chewy and should be discarded. Simply peel it off (should be very easy) and you are ready to go.
Get grill to a medium to high heat.
Oil and season the scallops. They will take about 4 minutes to cook. You are trying to get cross marks so try to move the scallop twice on each side.
CALIFORNIA PUREE
On a very low heat, sweat onions and garlic in butter until translucent.
Add cauliflower and cook until cauliflower is soft (approximately 40-60 minutes, depending upon the degree of heat). It is imperative there is no colour during the whole cooking process.
Add cream and reduce by 1/4.
When cooked, strain cream and remove all extra cream
Then in a blender, purée until silky smooth.
Add salt, tahini and lime juice. The lime juice is just for balance and should not be a predominate flavor.
GOLDEN RAISIN RELISH
In a saucepan, sweat the aromatics (lemon, chili, ginger, lemongrass, and rosemary) in a very small amount of oil.
Deglaze with Nobilo Icon Sauvignon Blanc and reduce by half
Add sugar and both vinegars.
Cook until the sugar is dissolved. Please do not colour at all
Add raisins and bring to boil and hold at boil for 5 minutes without stirring.
Purée 1/2 the relish and add it to the un-puréed mix.
To be clear, that's 50% pureed and 50% not puréed, with both mixed together.
Store in pint containers.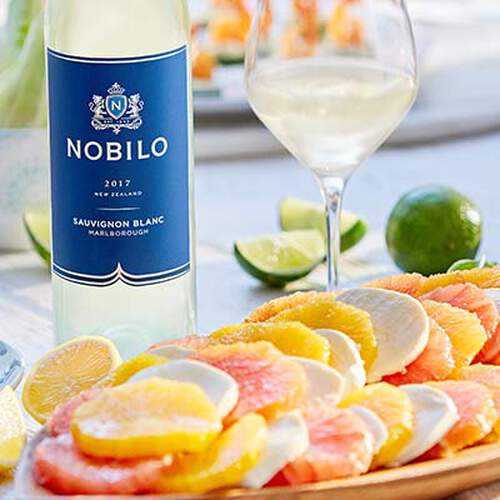 CITRUS CAPRESE SALAD WITH HONEY VINAIGRETTE