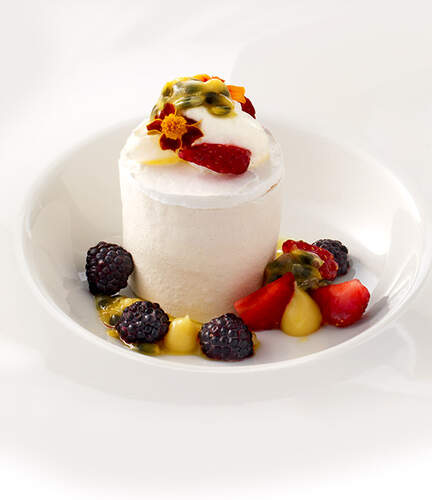 PAVLOVA, PASSIONFRUIT, WHIPPED CREAM & BERRIES
PAIRS WELL WITH NOBILO ICON SAUVIGNON BLANC
Developed by New Zealand-born Chef Matt Lambert.


PREP AND COOK TIME:
1 hour | 1-2 hours | Serves: 4
DESCRIPTION
Summer is the best time for these as we use summer berries and passionfruit. While you can't deny the sweetness, the passionfruit cuts it a little and the cream left unsweetened helps to balance the dish.
PASSIONFRUIT CURD
5 large eggs
1 ½ cups sugar
1 2/3 cups butter
4/5 cup passionfruit purée
WHIPPED CREAM
2 cups heavy cream
SOFT PAVLOVA MIX
1/2 cup water
2/3 cup corn syrup
4/5 cup sugar
1/2 cup egg whites
3 gelatin sheets
1 pinch salt
SWISS MERINGUE
4 large egg whites
1 cup sugar
1 tsp citric acid
1 pinch of salt
GARNISH
Strawberries
Passion fruit seeds
Acetate Sheets
TOOLS NEEDED
Electric hand blender (optional)
N2O cream charger in a canister (optional)
Stand mixer
N2O or CO2 siphon or old tonic bottle (optional)
Thermometer
PASSIONFRUIT CURD
Put a small sauce pan on the stove with water, bring to a boil, and then simmer.
Combine sugar, eggs, and passionfruit in a stainless steel bowl.
Whip vigorously and place over the steaming pot, being careful not to burn yourself.
When it starts to warm up, add butter and continue to whip, using an electric blender if you prefer. You want to bring it to a thickness where it will hold 3 figure-8's of curd on the surface.
When the thickness is achieved, put it in the blender to make sure it's perfectly smooth.
Chill and place in a piping bag.
WHIPPED CREAM
Whip the heavy cream with a whisk or charge with one N2O charger in a canister.
SOFT PAVLOVA MIX
Heat water, corn syrup, and sugar until dissolved (223-235°F/ 106-113°C). Use a thermometer to ensure the temperature is correct.
Slowly pour into egg whites that have already been whipped until very foamy.
Add salt, whipping until it has almost doubled in size.
Set in fridge. Depending on your refrigerator, the cooling should take around 10-45 minutes. It's advised to make it a day ahead to be sure it is cold.
When cool put into a blender and blend.
Put into a piping bag.
SWISS MERINGUE
Set up a bain-marie: simmering water in a smaller pot than the bowl you are using.
Whisk all ingredients in this bowl over the steam until the sugar is completely dissolved. You can use an electric hand blender.
When sugar is dissolved, remove from steaming pot and whisk for around 10 minutes until you have very firm or stiff peaks. A stand mixer is best for this.
Spread a thick layer over acetate sheets.
Fold to make a cylinder, tape, and dehydrate in your oven overnight for about 8-10 hours at 140°F/60°C.
Also make round discs to use as a "lid."
Remove acetate within 3 minutes of removal from oven and then you are ready.
GARNISHES AND PLATING
Chef 's Tip: I like to carbonate the strawberries with a little Nobilo Marlborough Sauvignon Blanc and CO2 so they have a little extra something. To do this you will need a N2O or CO2 siphon or an old tonic bottle. Simply place the berries and wine inside the canister, and charge with the N2O or CO2 charger. Shake well and let stand for one hour. Let the gas out gently, remove lid and pour now-carbonated berries into a container.
Pipe the cylinder of the passionfruit curd and soft Pavlova mix onto a plate.
Put the swiss meringue round disc "lids" on top.
Garnish with whipped cream, strawberries, and passionfruit. You can also use marigold flowers if you like.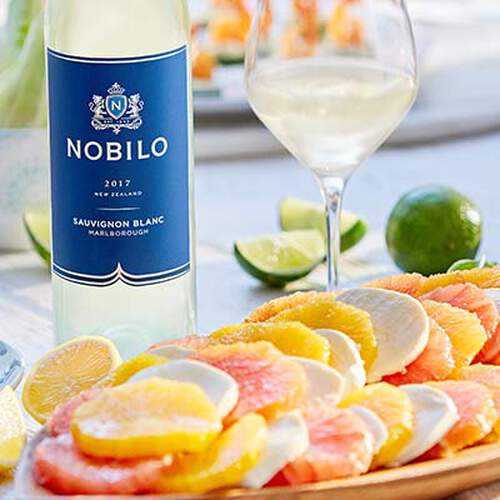 CITRUS CAPRESE SALAD WITH HONEY VINAIGRETTE