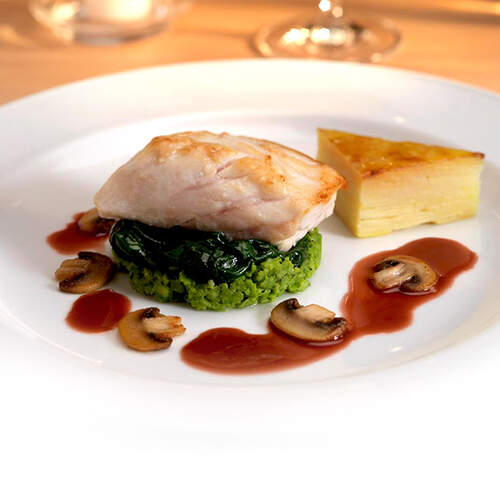 ROAST SEA BASS
PAIRS WELL WITH NOBILO ICON PINOT NOIR
This white flesh fish matches perfectly with a rich buttery red wine sauce. It is made with the Nobilo Icon Marlborough Pinot Noir, with the sautèed mushrooms complimenting the appealing characteristics of this wine.
DESCRIPTION
Nobilo Icon Pinot Noir with Roast Sea Bass fillet, Horseradish gratin, Thyme crushed peas, Pinot Noir & mushroom 'beurre rouge'.
FISH
2 tbsps clarified butter
Sea salt
6 x 160gr pieces of Sea Bass fillets
12 large spinach leaves
HORSERADISH GRATIN
150ml cream
150ml milk
1 Tbsp grated fresh horseradish or 1 tbsp horseradish paste
1 clove crushed garlic
500gr peeled potatoes
THYME CRUSHED PEAS
1 finely sliced shallot
2 tsp freshly picked, sliced thyme leaves
3 Tbsp butter
2 cups baby sweet peas
Sea salt
75ml cream
PINOT NOIR & MUSHROOM 'BEURRE ROUGE'
1 finely sliced shallot
1 tsp olive oil
½ cup Nobilo Icon Pinot Noir
2 tsp cream
½ cup diced cold butter
Salt & pepper to taste
1 cup sliced button mushrooms - seasoned then pan seared until golden in fresh butter.
FISH
Heat a fry pan until very hot.
Season the Sea Bass with salt then cook until golden.
Flip over and continue to cook until just done.
Quickly steam the spinach leaves, toss in olive oil and season with sea salt.
HORSERADISH GRATIN
Bring the cream, milk and garlic to the boil.
Using a mandolin slicer, cut the potatoes into very thin slices.
Layer the potatoes into a small dish and sprinkle a little salt between each layer.
Pour the cream mix over the potatoes.
Cook in the oven at 300 degrees F for 1 hour.
To cut a triangle make the gratin a day in advance.
THYME CRUSHED PEAS
On a low heat, cook the shallot and thyme in butter until soft.
Add the peas and season with sea salt.
Add the cream, bring to the boil then remove from the heat.
Puree in a food processor.
ICON PINOT NOIR & MUSHROOM 'BEURRE ROUGE'
Gently fry the shallot in oil then add the wine and reduce until syrupy.
Add the cream, then on a low heat start to whisk in the butter a few small pieces at a time.
Strain through a fine sieve and keep warm until serving time.
TO SERVE
To serve place a piece of horseradish gratin on each plate.
Spoon a scoop of crushed peas in a circle, then wilted spinach on top, then the Sea Bass.
Arrange the mushrooms around the plate then drizzle the sauce lightly around.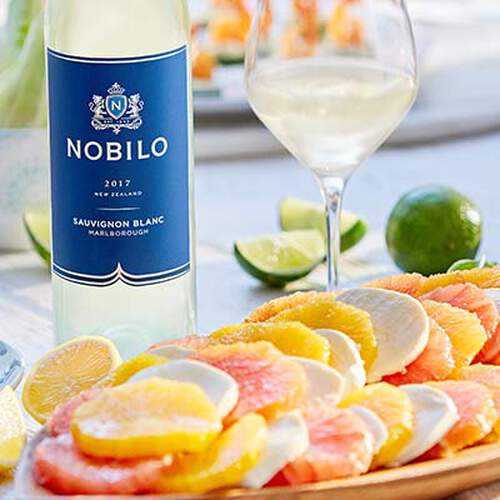 CITRUS CAPRESE SALAD WITH HONEY VINAIGRETTE