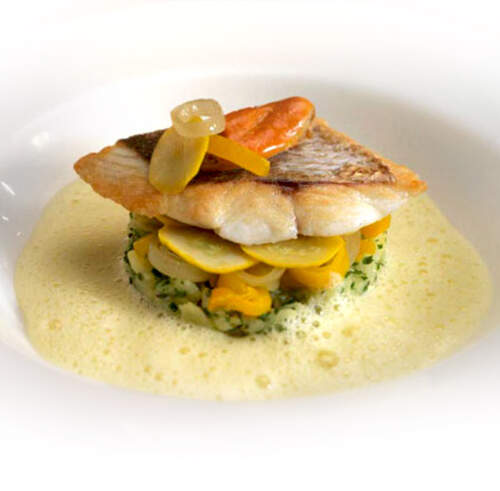 SEARED SNAPPER
The crispy skin of the snapper gives a wonderful texture and nutritious balance to this dish. The perfume of the saffron cooked with the mussels tastes magnificent with the fresh acidity found in the Nobilo Marlborough Sauvignon Blanc.
DESCRIPTION
Nobilo Marlborough IconSauvignon Blanc Seared snapper & mussels, crushed herb potatoes, yellow pepper & scallopini, saffron mussel broth.
CRUSHED HERB POTATOES
2 medium size potatoes
3 Tbsp extra virgin olive oil
2 tsp each of finely sliced chives, chervil, basil, parsley and dill
Sea salt & freshly ground white pepper
SAFFRON MUSSEL BROTH
2 sliced shallots
2 garlic cloves sliced
1 Tbsp olive oil
12 mussels
20 threads saffron
100ml white wine
100ml cream
100ml milk
YELLOW PEPPER & SCALLOPINI
1 large sliced yellow pepper
6 sliced baby onions
2 Tbsp olive oil
6 small sliced scallopini
Sea salt
THE SNAPPER
6 x 40g skin-on snapper fillets
Sea salt
3 Tbsp clarified butter
CRUSHED HERB POTATOES
Boil potatoes until cooked, drain 90% of the cooking liquid.
Cover and keep hot until ready to serve.
Add olive oil, herbs, seasonings and lightly crush with a fork.
SAFFRON MUSSEL BROTH
Gently fry the shallots and garlic in olive oil then add mussels, saffron and white wine.
Turn up heat to high, cover with a lid, once mussels open remove with tongs.
When cool remove mussel meat, trim off beard, and remove the mussel tongue.
Reduce liquor to 100ml then add cream and milk, reduce by half, strain.
When ready to serve reheat gently then foam up with a stick blender.
YELLOW PEPPER & SCALLOPINI
Gently fry the yellow pepper and onions in oil and salt.
Cook on a very low heat and stir from time to time.
Once cooked add the scallopini and serve immediately.
THE SNAPPER
Season snapper with salt then fry skin side down in a hot pan until golden and crisp, flip over to finish the cooking.
Arrange the potatoes in a ring in the centre of the plate with the yellow capsicum, scallopini and mussel.
Place the snapper on top then serve the saffron mussel broth foamed around.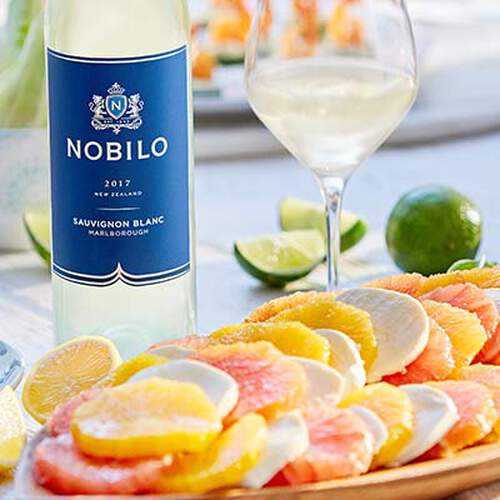 CITRUS CAPRESE SALAD WITH HONEY VINAIGRETTE